HOW THE GREENHOUSE EFFECT WORKS
Basically, the principle involved is the conservation of energy:
Energy In (Sunlight) = Energy Out (Infrared Radiation to Space) + Sunlight Reflected to Space
In the picture below, notice how there are various processes on earth involving the movement of solar energy, but all the energy enters and exits via space, and because of earth's rotation about the sun there is an equilibrium that balances on an annual basis.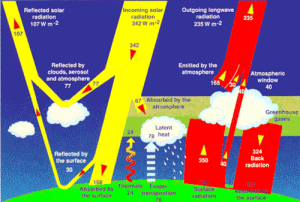 The Greenhouse Effect works as follows:
The rate of energy (as heat) emitted from the earth's surface to space is governed by the earth's surface temperature.
The greenhouse effect imposes a resistance between the earth's surface and space.
As resistance to heat flow increases, the earth's surface temperature must increase to maintain constant flow.
Consider this electrical analog:
The object is to maintain constant current (measured by amp meter A).  As the resistance increases, the voltage must increase accordingly.  For this analogy, the current is heat, the voltage is temperature, the resistance is greenhouse effect.  The temperature – heat flow relationship is not linear.
Remember, in nature a heated object will adapt to reject the heat at a rate equal to that put into it; that is, increase its temperature.